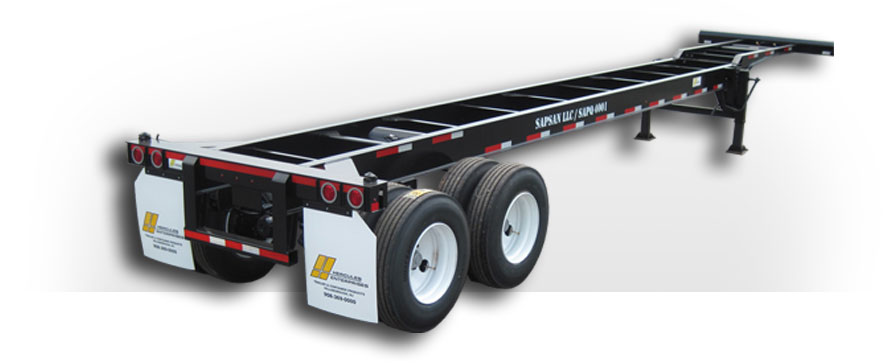 40′ GOOSENECK LIGHT WEIGHT
SPECIFICATION FOR HERCULES ENTERPRISES
GENERAL:
The chassis is designed for repeated use in stevedoring and transporting of a 40' I.S.O. type cargo container. With GVWR OF 65,000 lbs
MATERIALS:
The chassis frame and main fabricated parts are of high strength low alloy steel ASTM A572 Grade 50, having a minimum yield point of 50,000 PSI.
DIMENSIONS:
OVERALL LENGTH:  40'-8"
OVERALL WIDTH:  96"
KING PIN LOCATION: 30" (from rear face of front bolster)
TANDEM LOCATION:  53 1/2" (from rear of chassis)
5TH WHEEL HEIGHT: 48"
REAR BOLSTER HEIGHT: 48"
LANDING GEAR LOCATION: 128" (from rear face of front bolster)
ESTIMATE WEIGHT: 5000lbs
FRAME:

UPPER COUPLER:
1/4" GR80 pick up plate with 2" diameter spool type king pin per SAE standard J700B supported by 3/16" thick GR80 channels.
MAIN RAILS:
Fabricated beams with high tensile GR130 (T1 material) flanges and GR80 webs.
CROSS MEMBERS:
3/16" x (4" deep at the gooseneck section and 9" deep at the main section) A572 Grade 50 material formed channels with lightening holes.
FRONT BOLSTER:
6" wide x 8" high, 3/16" Gr80 thick fabricated channel with 45 degrees tapered rear web to provide a container gatherer in a stevedoring operation and Buffers pin locks #1213. Triangular type gusset reinforcements welded between bolster and front main rails.
REAR BOLSTER:   GR80 3/16" thick 7" x 6 3/4" formed "U"-channel with GR80 5/16" x 8" wide top plate. Drop in style Buffers twist locks #1257 welded at each end of the bolster.  Triangular type gusset reinforcements with 1-5/8" leg welded between main rails and outside rear bolster.
ICC BUMPER: The horizontal step guide 4"x4"x3/16" square tubing with lightening holes. Supported by 3/16" GR80 channels. Rubber dock bumpers on rear bolster.

LANDING GEAR: 
Jost UL500 light weight landing gear sets,
SUSPENSION:
SAF Holland DuraLite Series spring suspension with 360-00 single leaf springs.
RUNNING GEAR:
SAF Holland, 5 3/4" dia 22,500 capacity71.5" track axles.. Synthetic grease lubrication with Stemco Guardian seals.
BRAKE SYSTEM:
Meritor/Wabco 2S-1M anti-lock brake system, type 30/30 TSE spring brake chambers, Haldex 28-spline 5.5" auto slacks.
WHEELS:
445/50R22.5 tires mounted on aluminum rims. Duralite lightweight hub, Centrifuse lightweight drum
LIGHTING:  
Volt lighting system per U.S.D.O.T. / FMVSS 108, Philips wiring harness with plug type connectors, 7 way electrical plug with rubber boot and Peterson single diode LED lights.
FINISHING:  
Chassis are prepared for paint by commercial abrasive blast. Primed with zinc-rich primer and coated with black urethane top coat.
All Hercules Chassis can be built to customer requests, including:
PSI Tire Inflation System
Air Ride
Lift Axles
Choice of Color
Anti-Theft Options
CONTACT HERCULES ENTERPRISES FOR MORE INFORMATION
321 Valley Road
Hillsborough, NJ 08844
(908) 369-0000
Please use the form below to contact us for more information about our chassis.